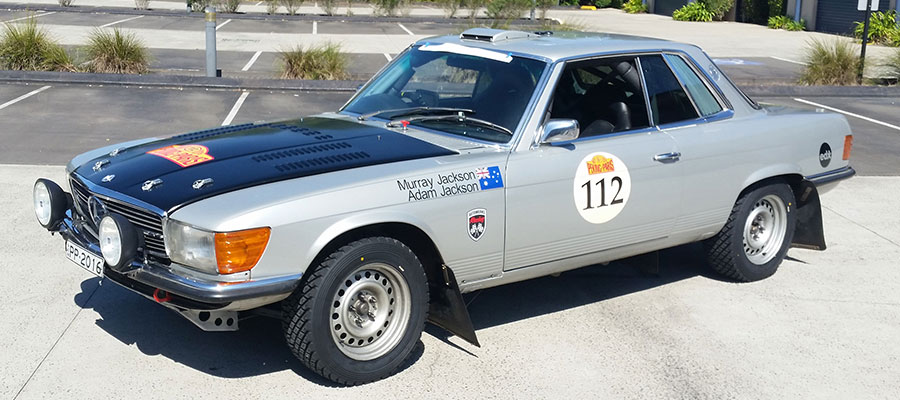 All started with a phone call in October 2013 ……. "Hey Adam, are you interested in participating in the 2016 Peking to Paris endurance rally for classic cars?" Adam replied in the affirmative without spending even one second investigating what it involved. This was the humble start of the near three year journey. Murray and Adam had no experience with rallying, but both shared a passion for cars and also possessed a sense of adventure! How hard could it be?
The Peking to Paris endurance rally in a nutshell:
13,695 kms (8,510 miles)
36 days
110 vintage, veteran and classic cars
11 countries – China, Mongolia, Russia, Belarus, Poland, Slovakia, Hungary, Slovenia, Italy, Switzerland, and France
competitors do their own maintenance
starts at the Great Wall outside Beijing on June 12
finishes in the Place Vendome in Paris on July 17
largely follows the route of the 1907 rally
6th running – first in 1907; then 1997, 2007, 2010, 2013, and now 2016
The Car – our 1974 Mercedes 450SLC was bought specifically for the P2P, pulled apart, painted, rebuilt, and tested in outback NSW and Queensland. Needless to say, it didn't take long to throw out the budget re time and money!
Huge thanks to all those involved in sharing their experience and knowledge, and in doing the work. In particular:
Two times P2P winners in the Classic section Gerry Crown and Matt Bryson for their advice re reliability and weight
The team at Autowerks, Simon Greenwood and Adam Lever, who performed 99% of the work and solved many technical problems along the way.
For more information about the Peking to Paris, visit the Endurance Rally Association.