Preparation of the Mercedes 450SLC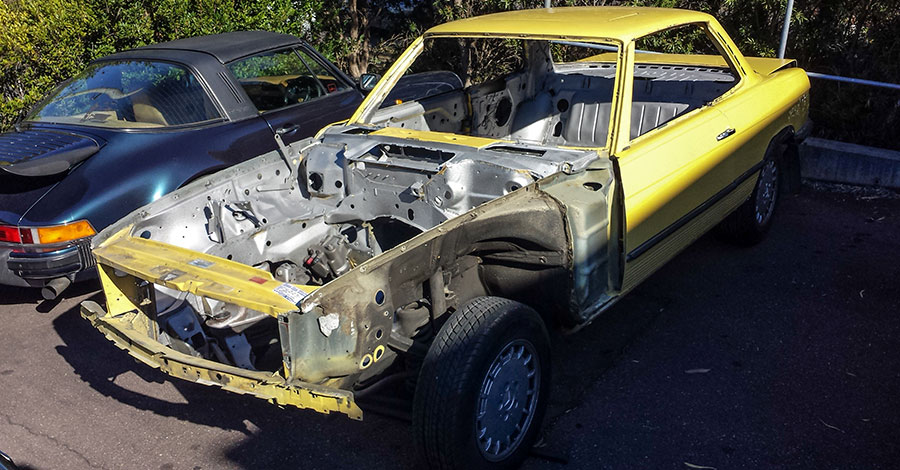 The winner of the last two Peking to Paris rallies (in a 1964 Holden EH in 2010 and in a 1973 Leyland P76 in 2013), Gerry Crown, works in the same industry as Murray and is also an Aussie. Contact was made, and Gerry invited Murray and Adam for a BBQ at his house in Sydney in early 2014, along with his co-driver (and mechanic), Matt Bryson. Highly amusing, fascinating and informative evening hearing Gerry and Mat's P2P rallying stories. Gerry was quite adamant that this rally was all about reliability, and the way to achieve reliability was in the meticulous preparation of the car and in reducing weight wherever practical. Definitely no roof racks!
Our approach to preparing the 450SLC was all framed around safety and reliability.
The first step was to find a professional workshop to perform the mechanical and body work, and to solve the myriad of technical issues that would arise during the project. Autowerks, an independent Porsche workshop specializing in classic Porsches was approached. The owner, Simon Greenwood, had worked on Murray's 911SC over many years. In addition, Autowerks had prepared a number of tarmac rally Porsches for other clients, and their Charmhaven workshop was only 30 minutes from Adam's office. Over a handshake, Simon was commissioned to do the work. The 450SLC spent the next twenty one months in and out of his workshop being prepared for the P2P. Adam Lever was the Autowerks mechanic who must have spent every non-sleeping moment thinking and working on the car, and probably every sleeping moment dreaming about how to solve all the technical issues.
In summary, every moving part has been replaced, chassis fully seam welded, springs and shocks upgraded, all mounting points re-engineered and fabricated, engine and auto gearbox reconditioned to original spec, electrics rewired, all non-essential items jettisoned to reduce weight (aircon, heater, electric window motors, rear seats, sunroof motors all gone), 6-point roll cage fitted, fuel tank moved forward and a fuel cell/bladder installed, radiator upgraded etc etc. The list just goes on and on……..
Post from RICOH THETA. – Spherical Image – RICOH THETA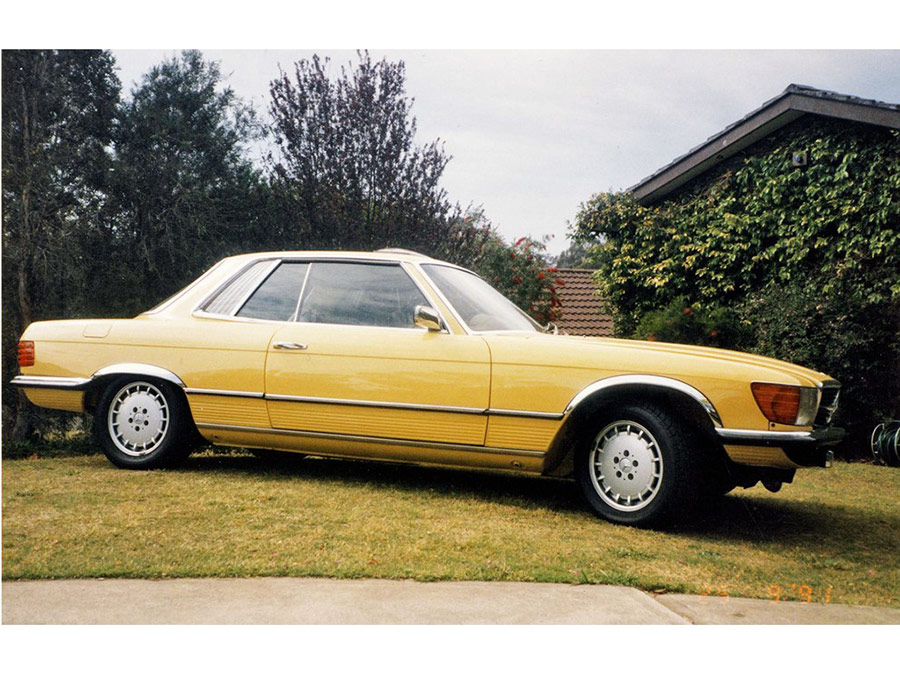 This is the photo from the for sale ad, where it all began.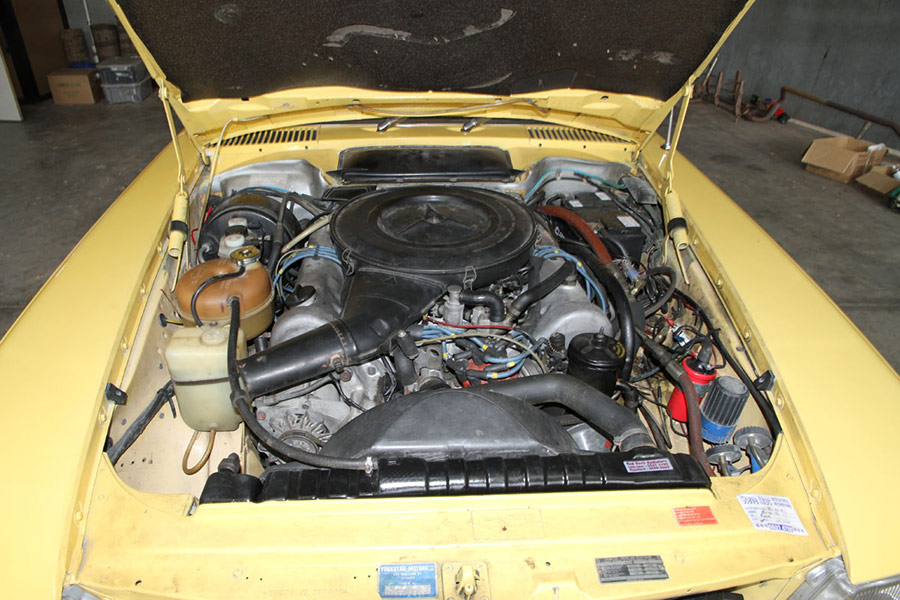 4.5L V8 running about 5 or 6 cylinders, but to its credit, it made the 900km journey from QLD without a problem aside from being extremely thirsty.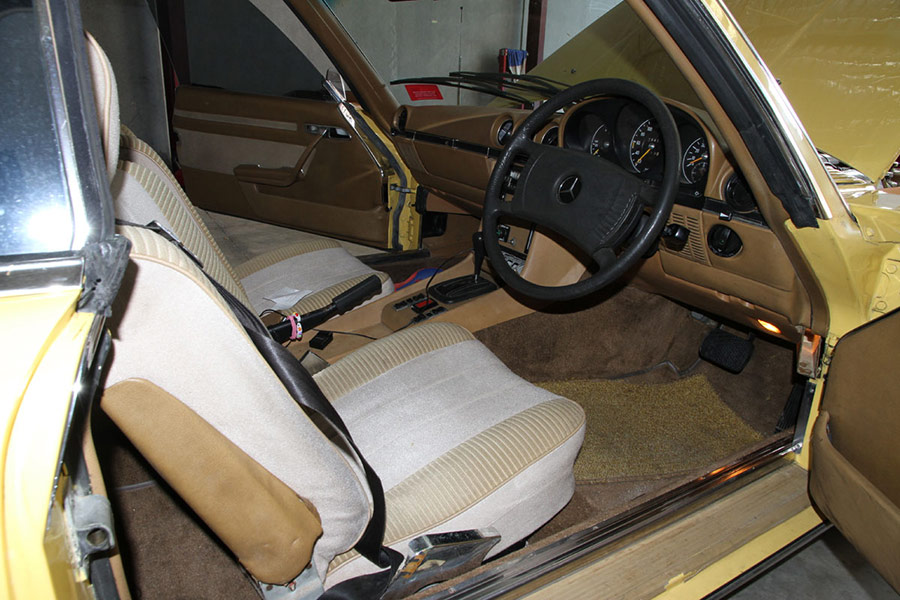 Velour interior was falling to pieces, however we were not concerned with any of this, we simply wanted a body that was in good condition and this one was, very little rust through out the entire body.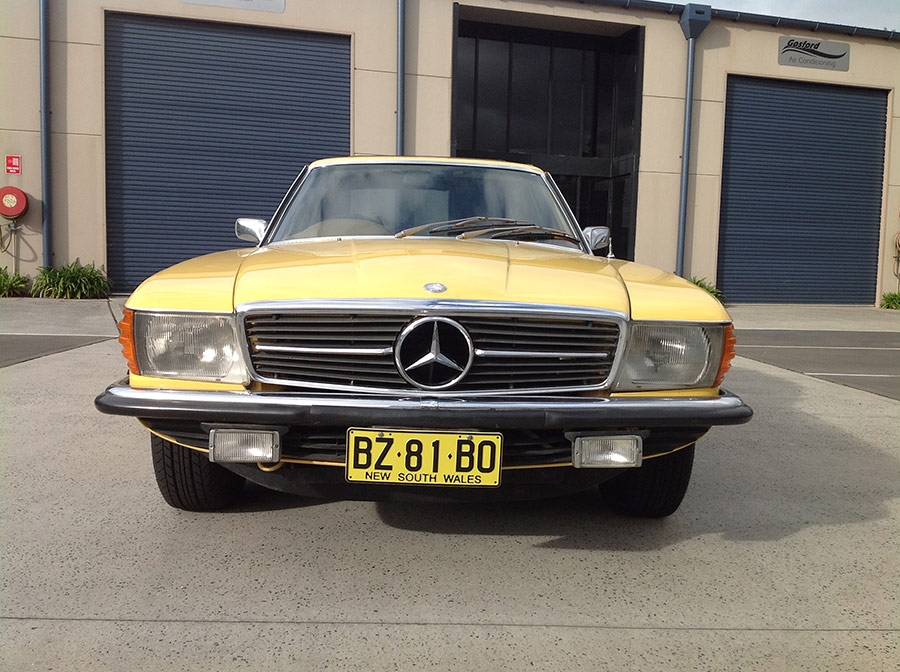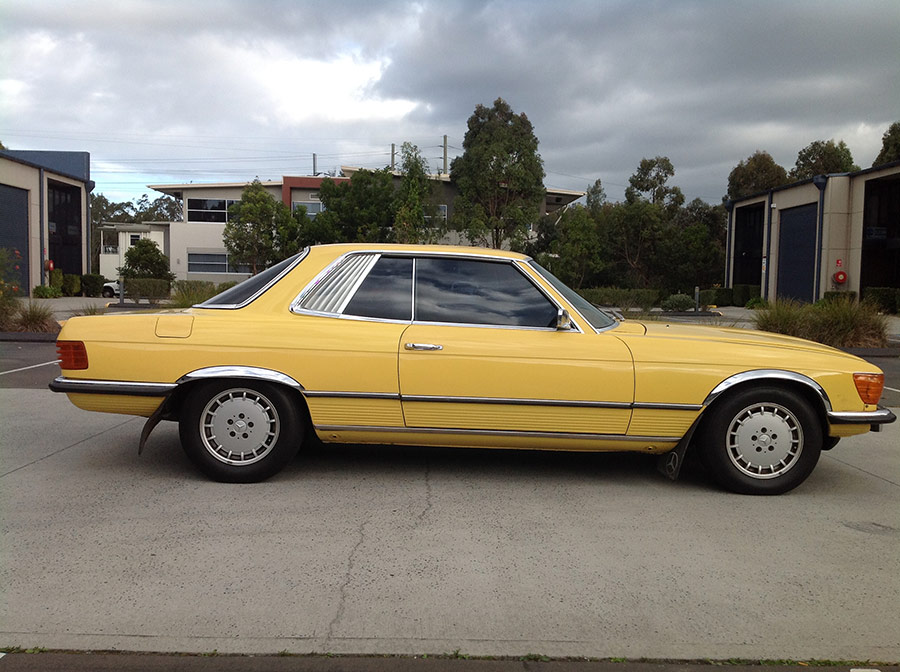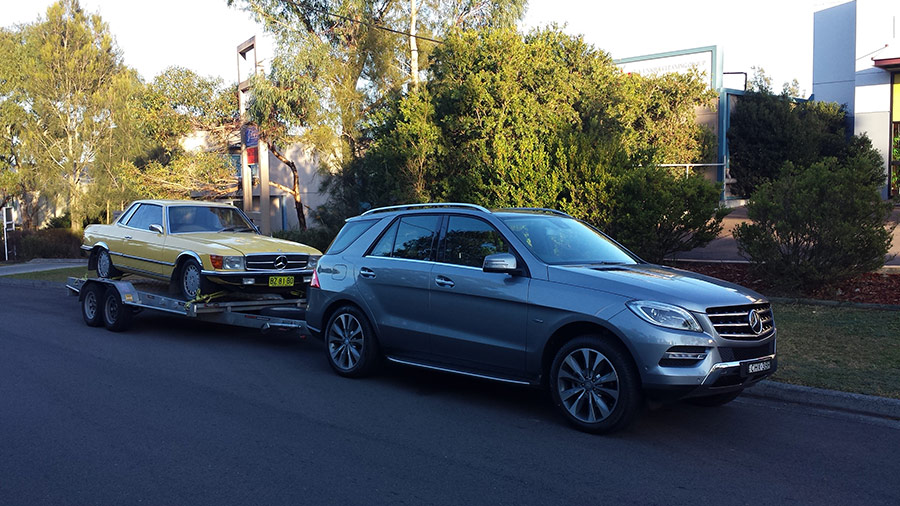 Getting dropped off at Autowerks to begin its transformation from luxo barge into a rally car!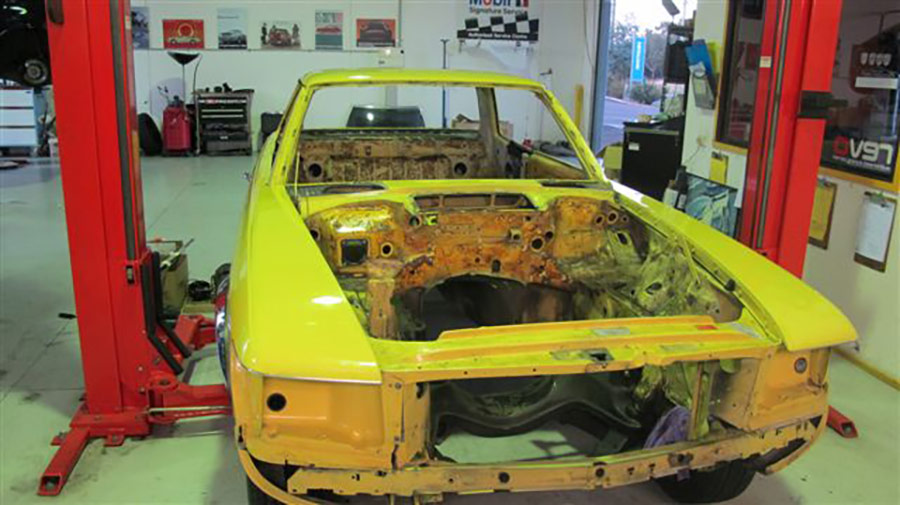 Completely stripped bare ready for the metal work to begin. We planned from the beginning to seam weld the car, add a full cage and strengthen any and all weak points we could identify.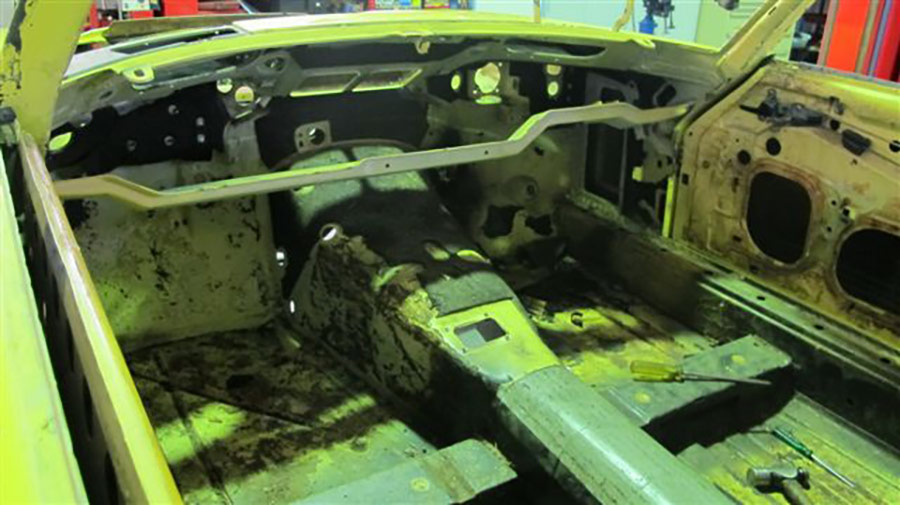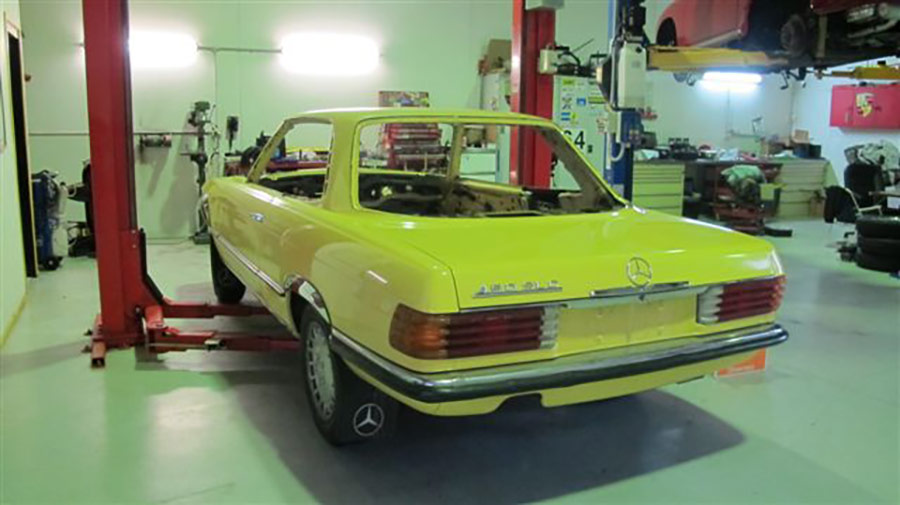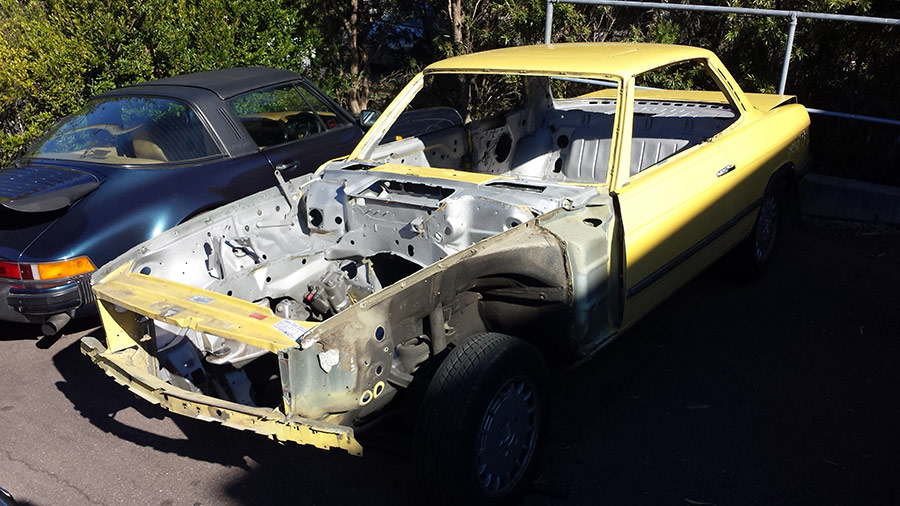 Engine bay, interior and boot were all sand blasted.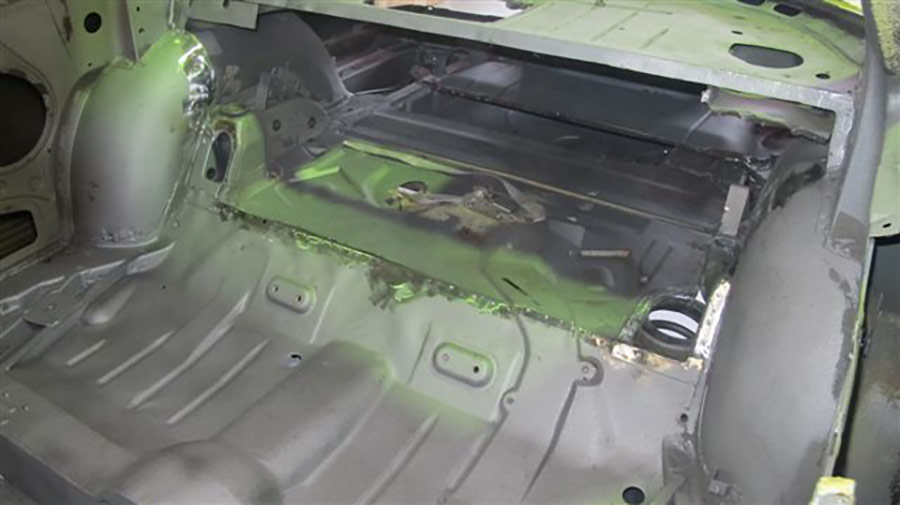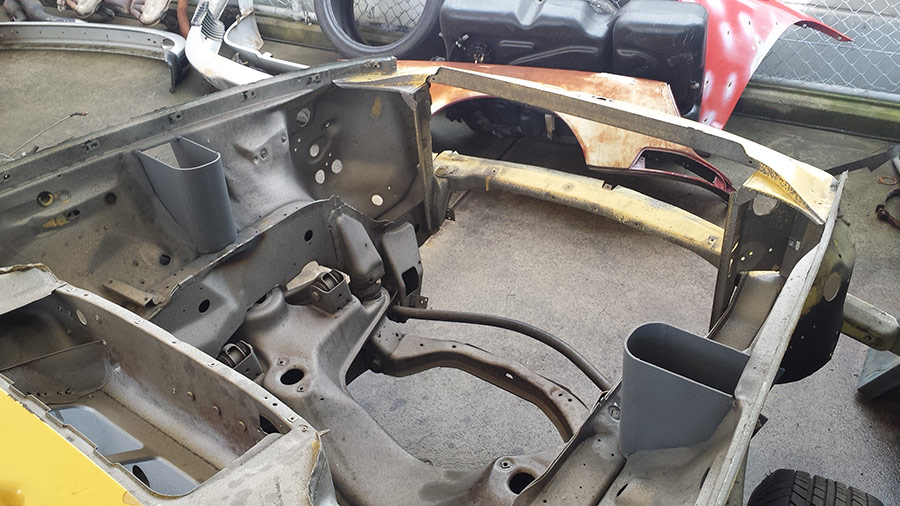 The standard shocks were not robust enough nor would they give us the travel we needed, so new towers were made to accommodate our new shocks.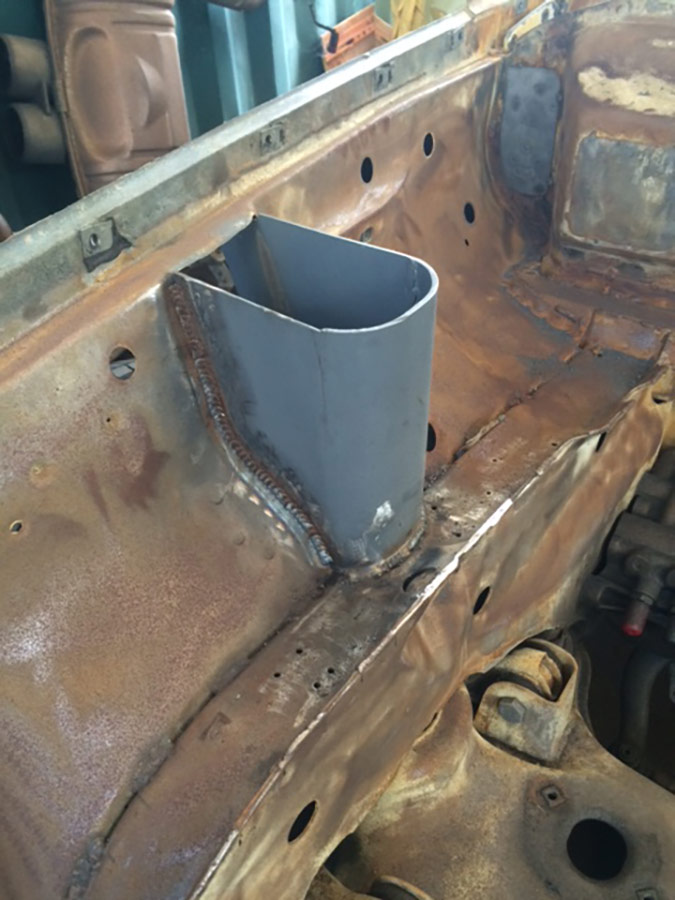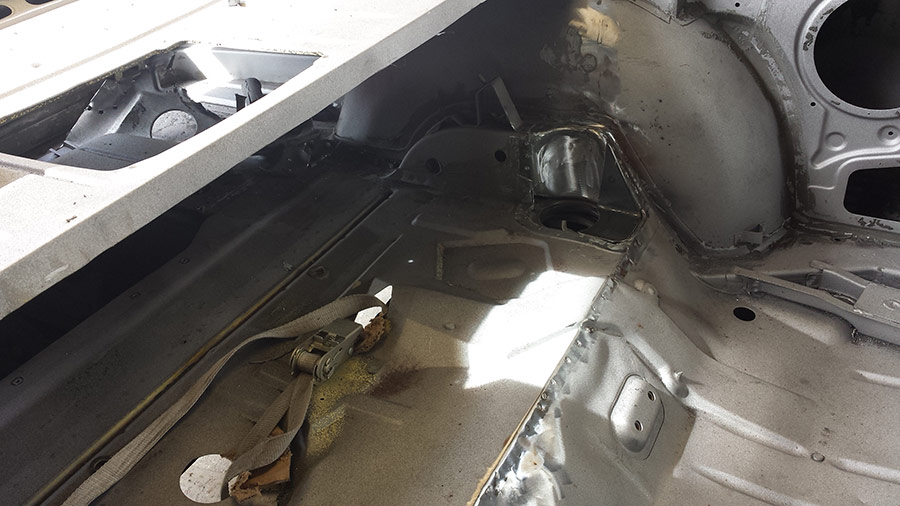 The rear shock towers were replaced too.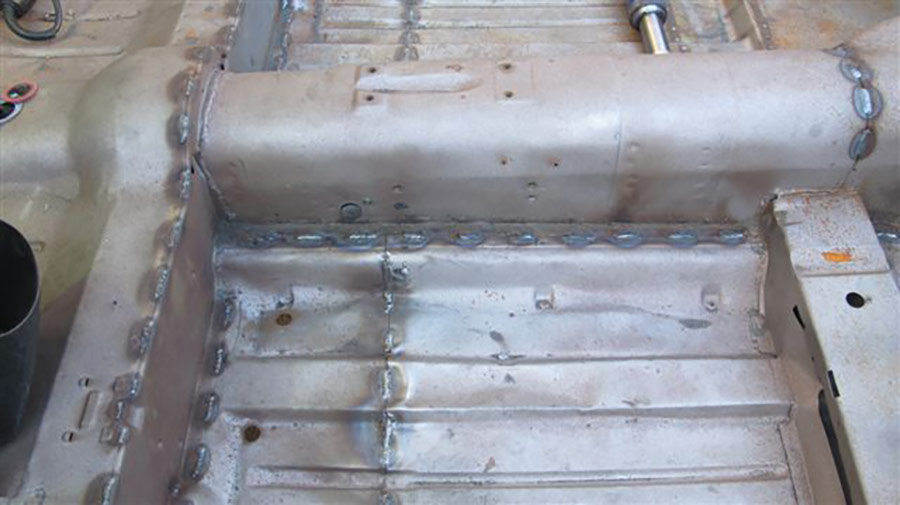 The entire car is completely seam welded.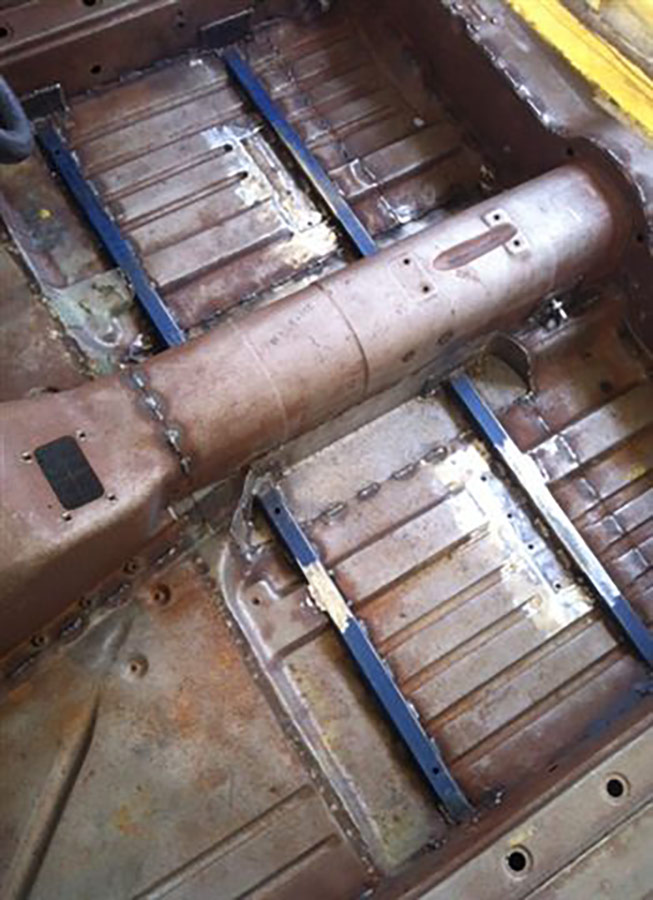 We both stand over 6′ tall so had to lower the seat mounts in order for us to still fit inside the car comfortably when the roll cage was added.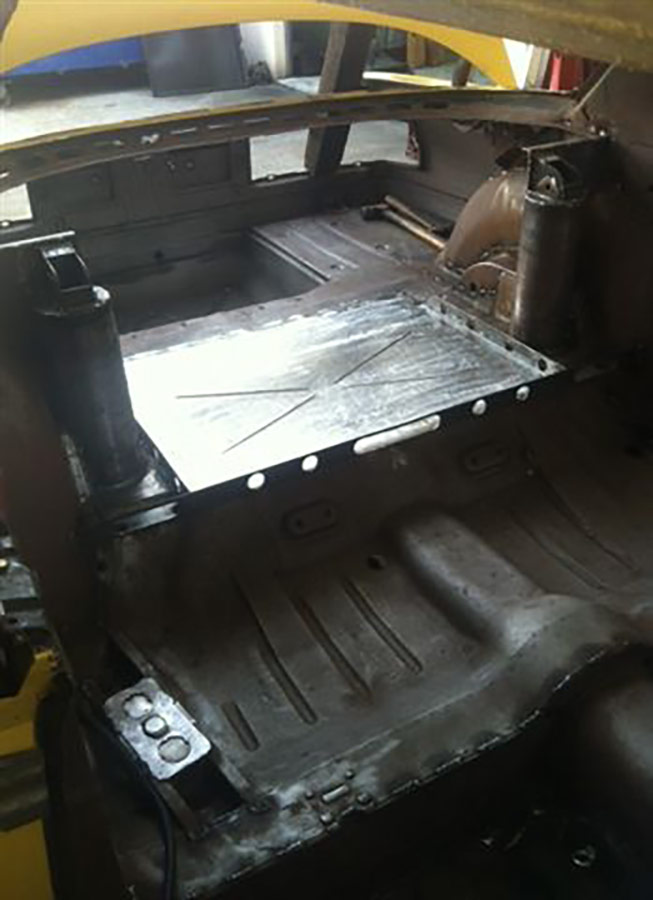 A 100L fuel cell was added which meant the parcel shelf and rear seat divider needed to go to make room for the enormous fuel cell. You can also see our new rear shock towers in this photo.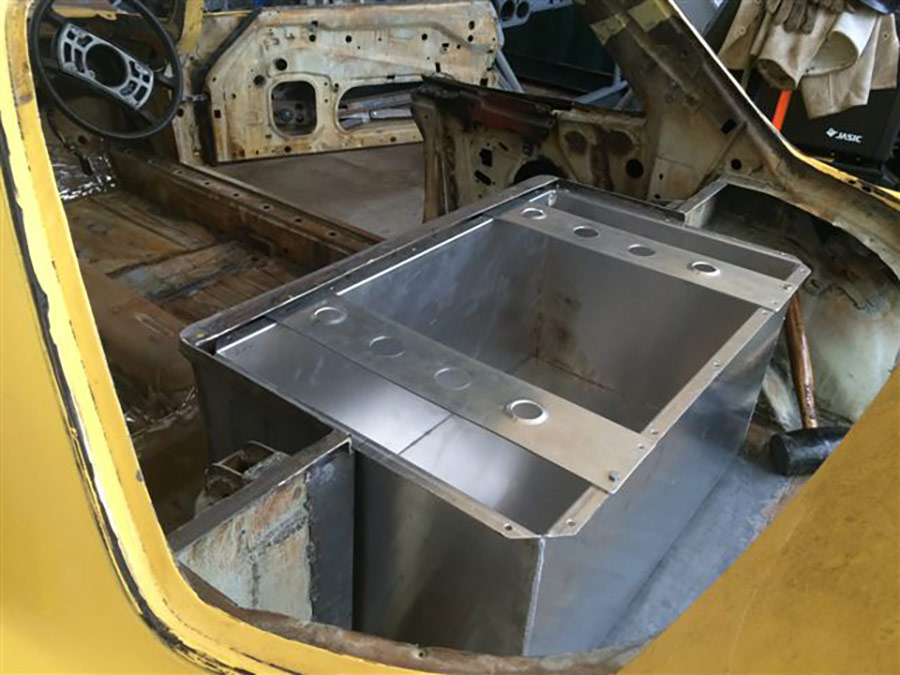 An ATL fuel cell was sourced and alloy tank fabricated to house it.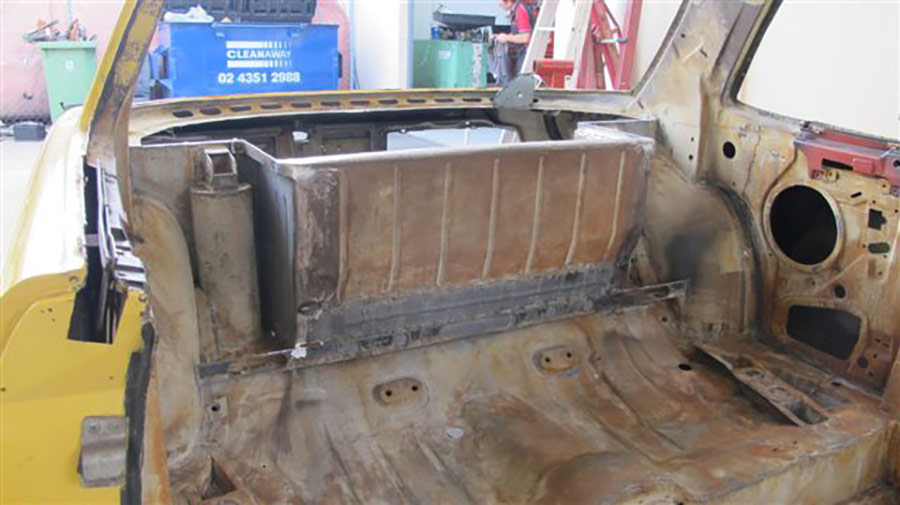 Rear seat divider was reused to again separate the boot area from the cabin.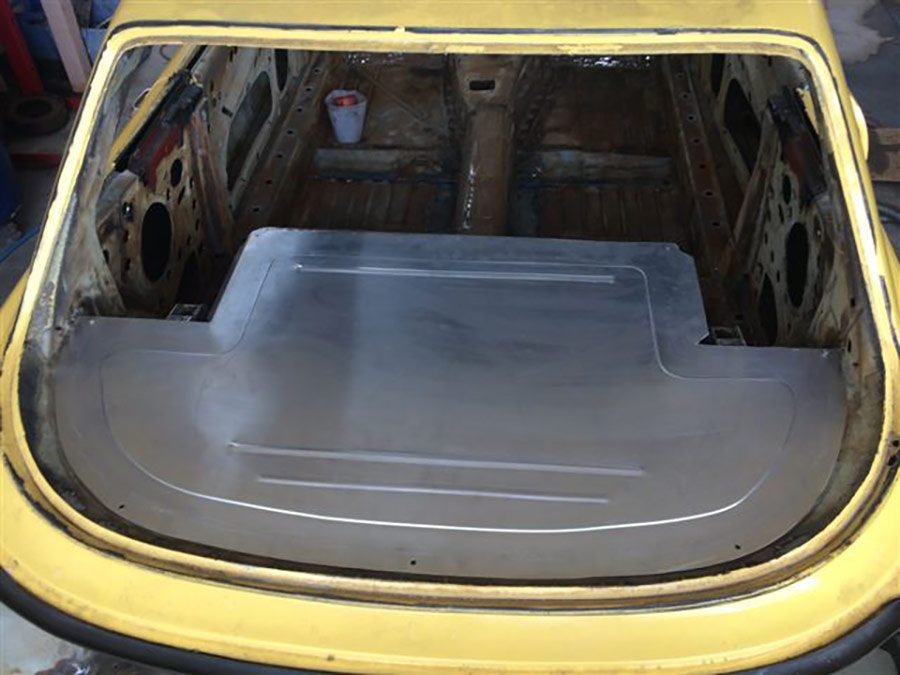 As you can see, the fuel cell has stolen a bit of cabin space, ~200mm.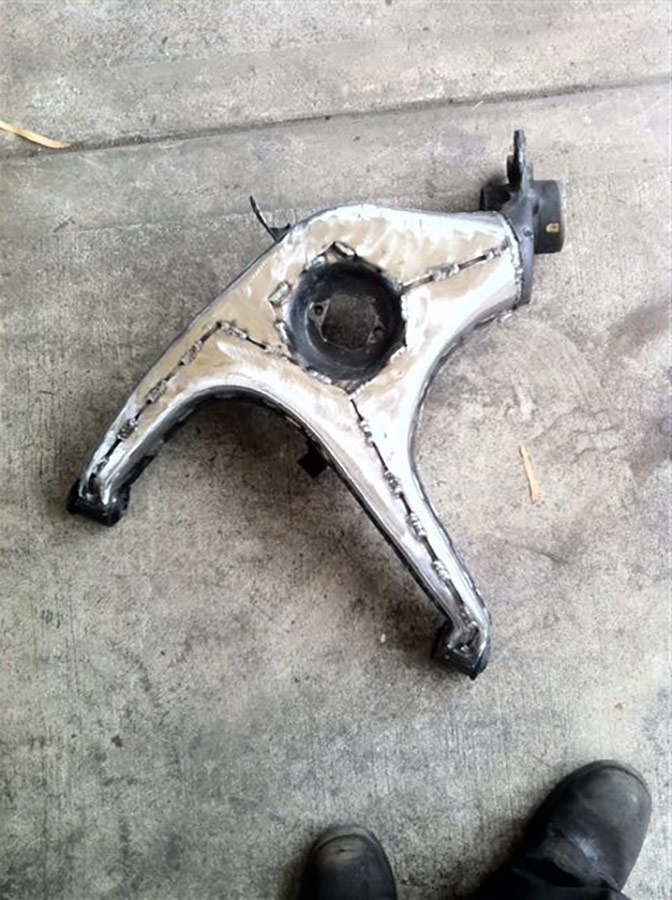 More strengthening, two sets rear trailing arms were used to create one.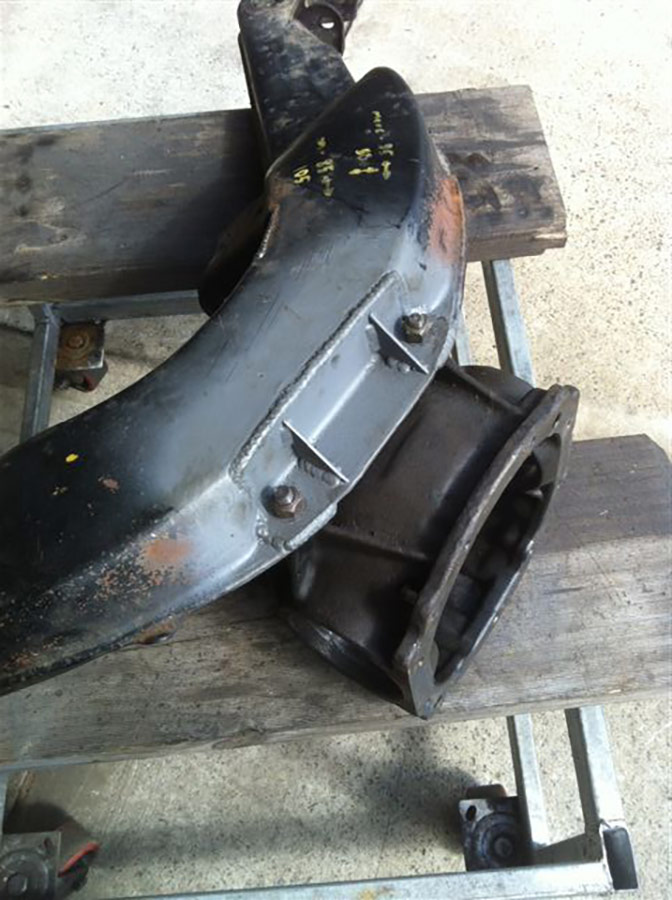 Diff cross member plated.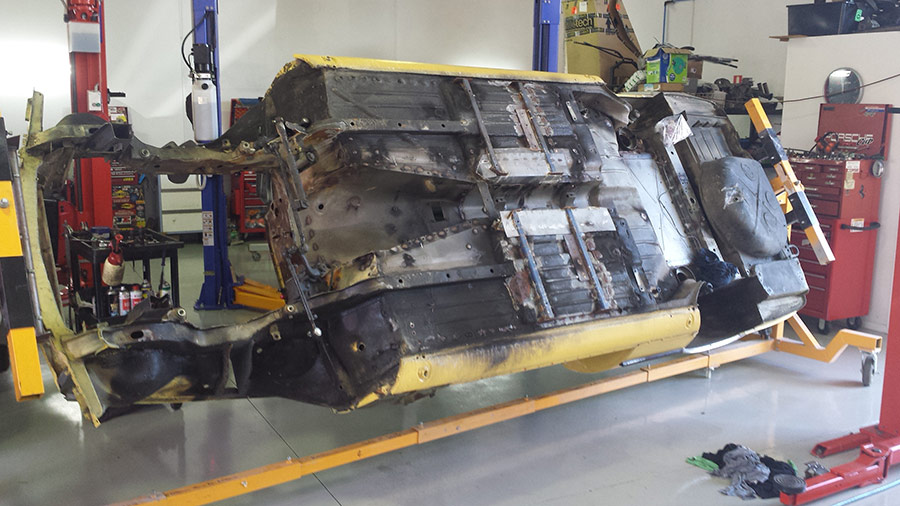 The 450slc spent many months on the rotisserie while the metal fabrication was in full swing.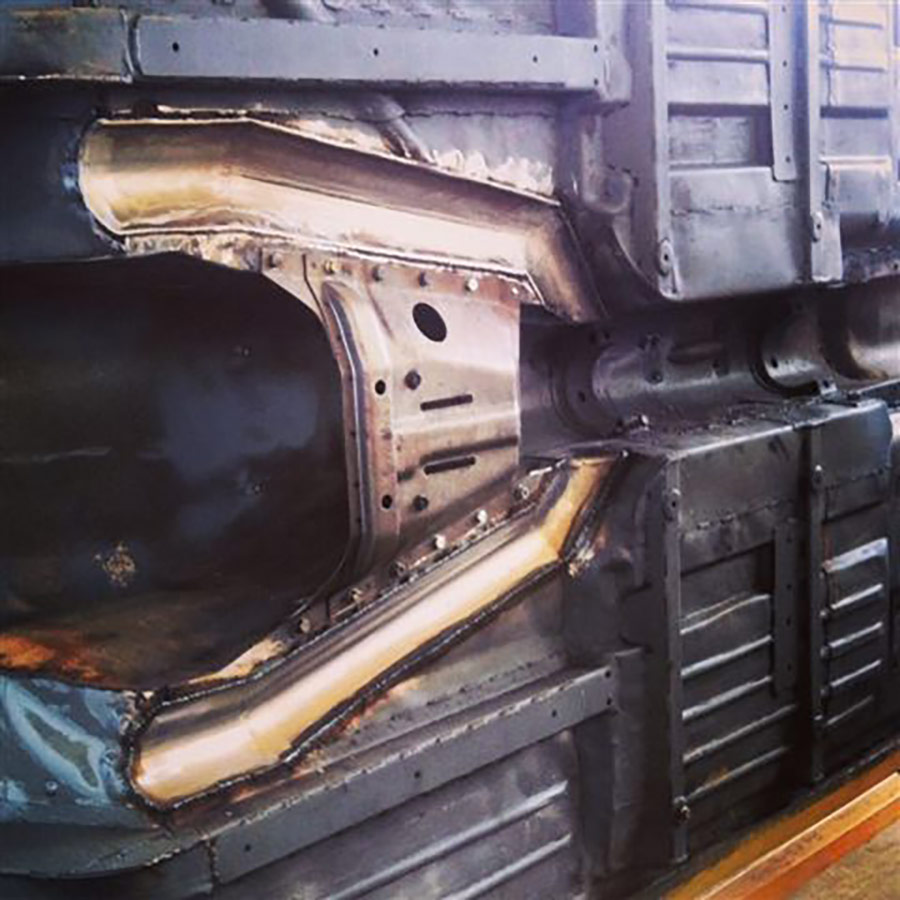 Metal fabrication to allow for our exhaust to be mounted up higher so as to give us as much ground clearance as possible.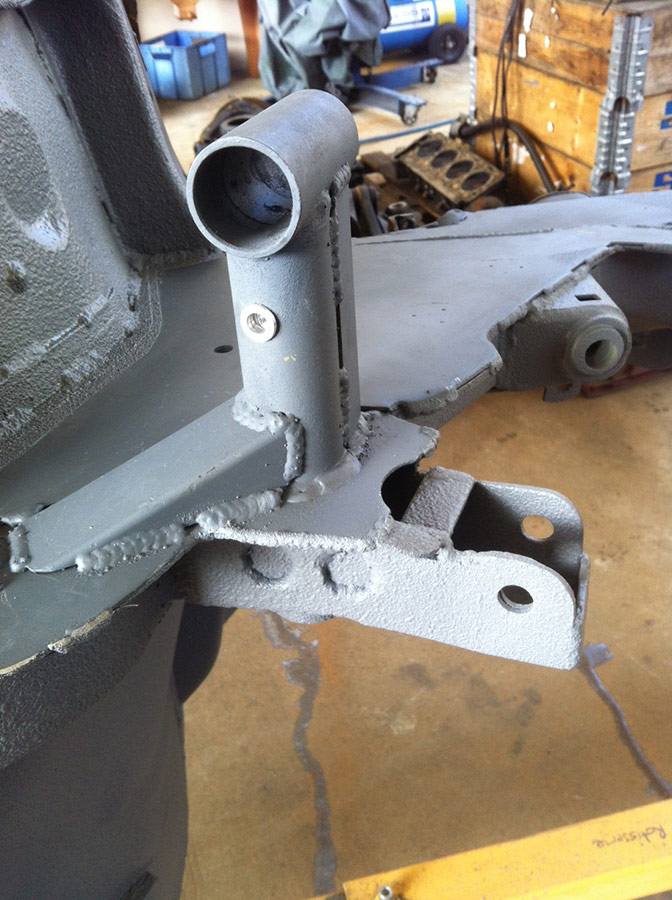 Intermediate steering arm strengthened with a few gussets. We also got rid of the stock dampener and went for a far more heavy duty aftermarket 4WD steering dampener.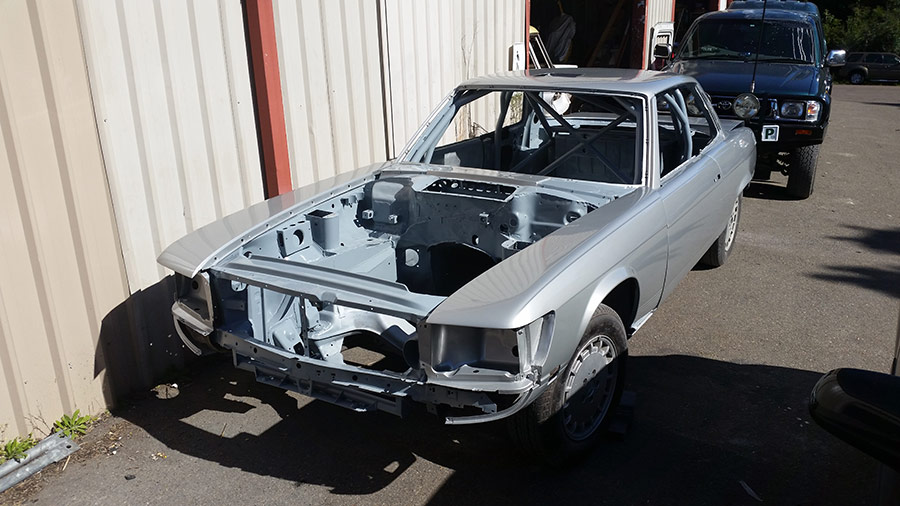 This was an exciting moment, all the metal fabrication now complete and the colour on the car making it that much closer to actually starting to look like a running vehicle again.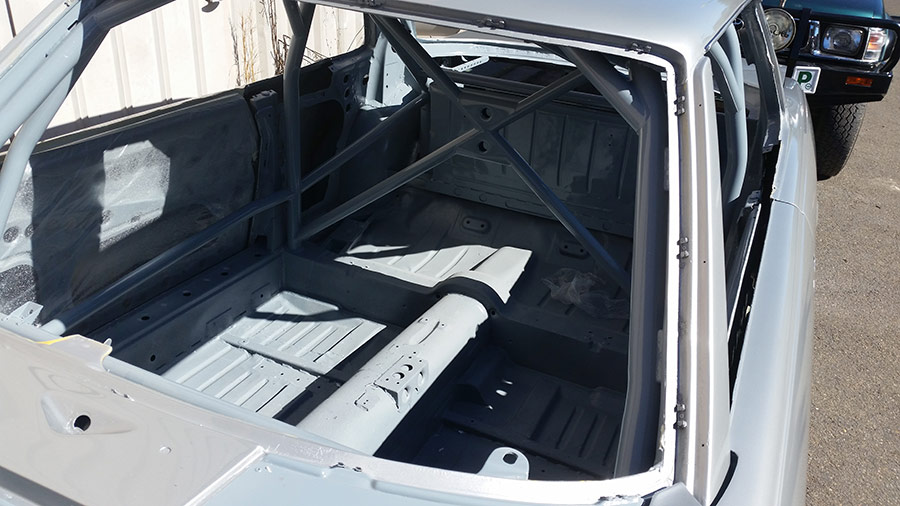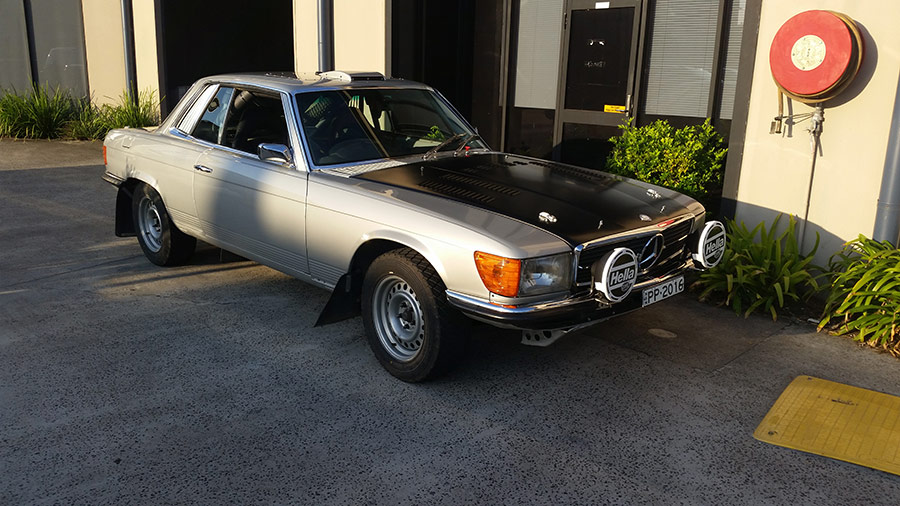 Ready for some testing, with the new suspension setup and rally tyres, it really did feel like an entirely different car. The original was a sloppy handling gutless pig of a car to drive. Now, whilst not being the fastest thing to pedal about, it has a great crisp sound to it and handles superbly, an instant smile giver. Every bend is a joy to take on now.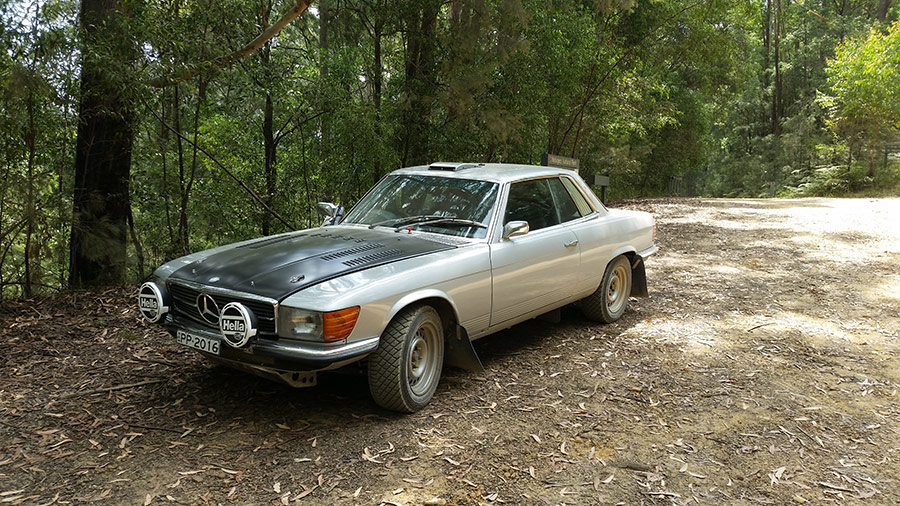 In the dirt, it feels really sure footed in our extremely inexperienced hands, the car felt like it would go where you want it.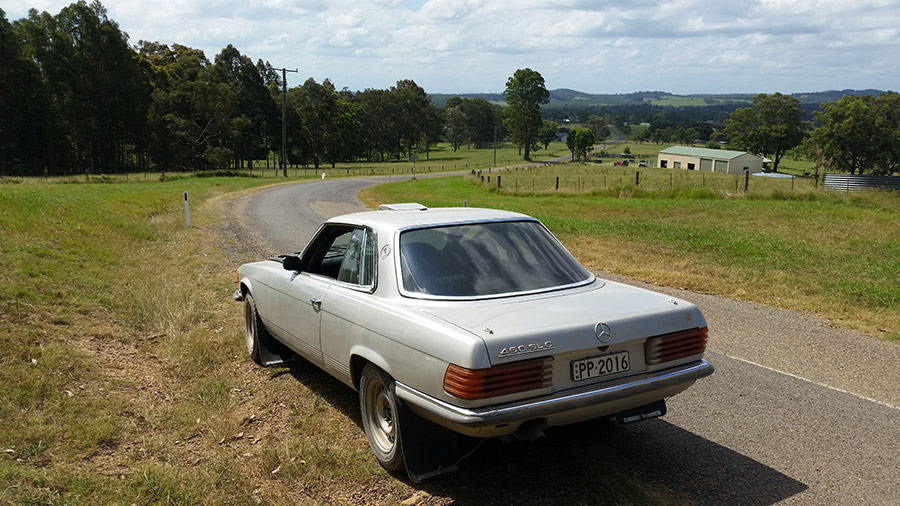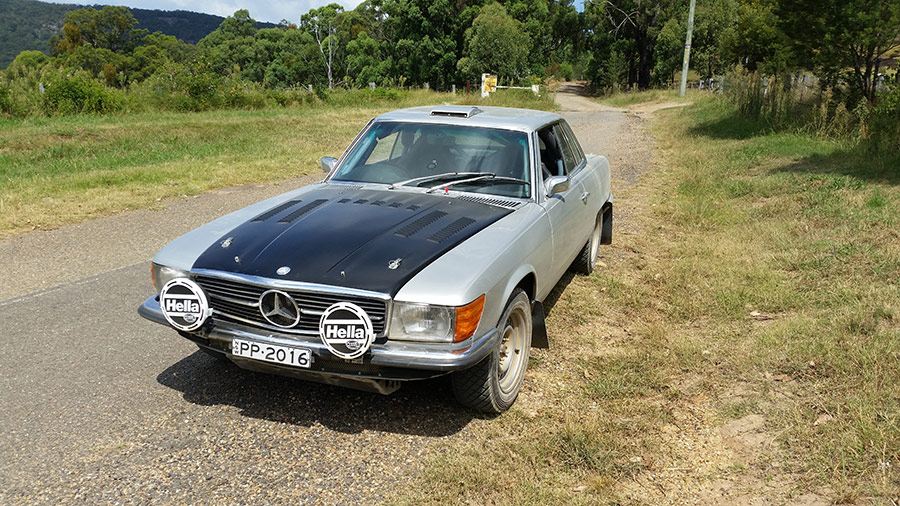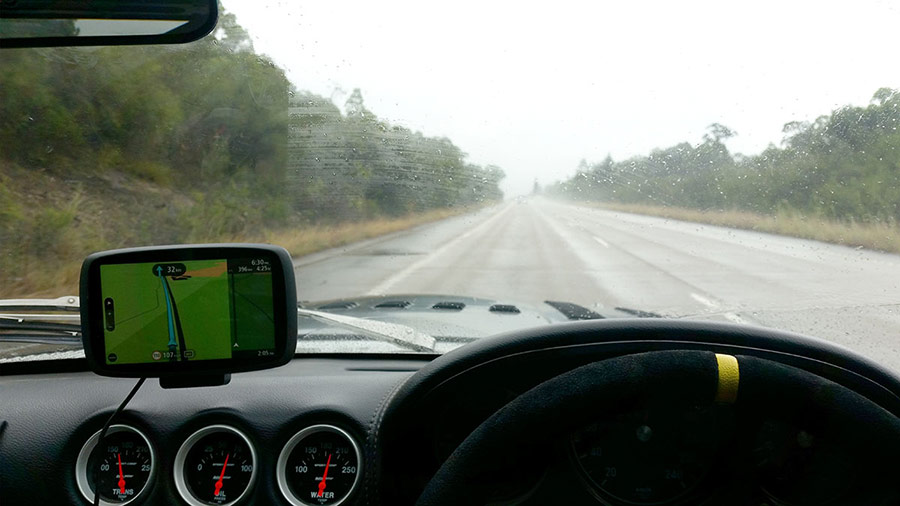 Our longest test drive was a trip to Longreach and back which is roughly 4,000km.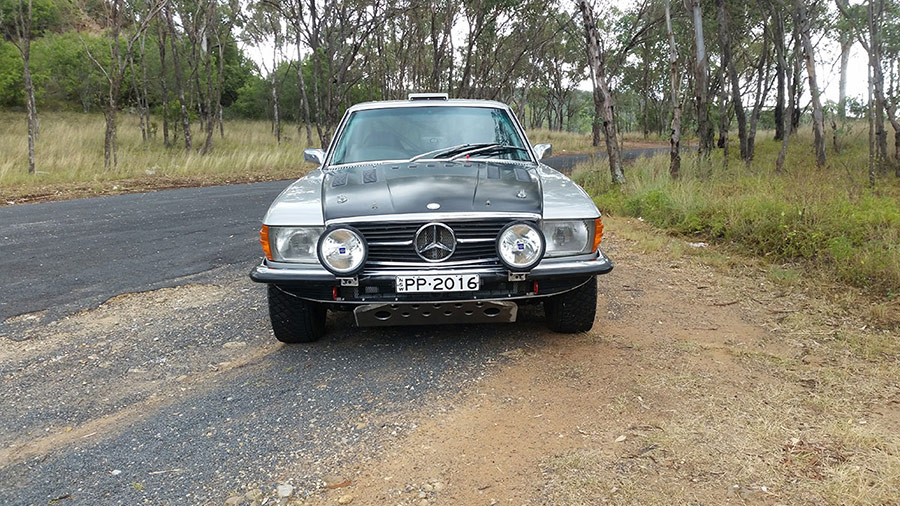 Bonnet was louvred to help the engine cool since the bash plate was now restricting some of this (bash plate runs just past the gearbox).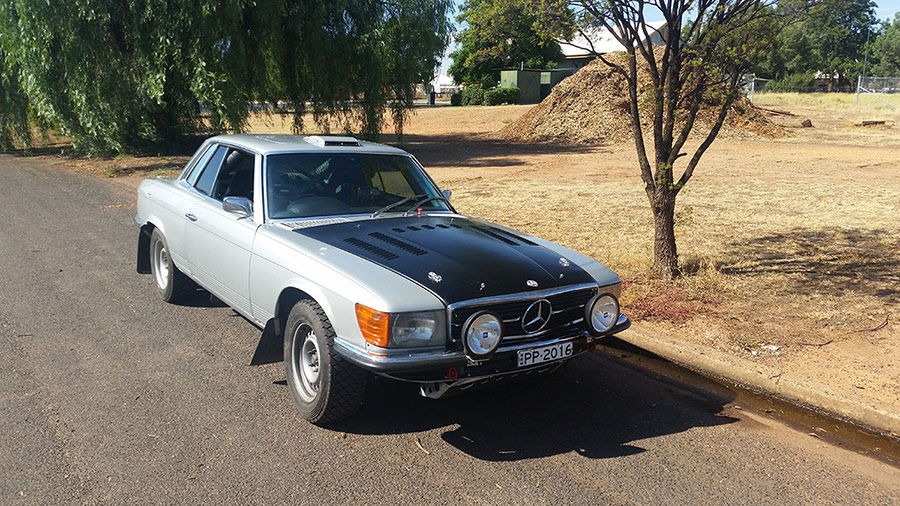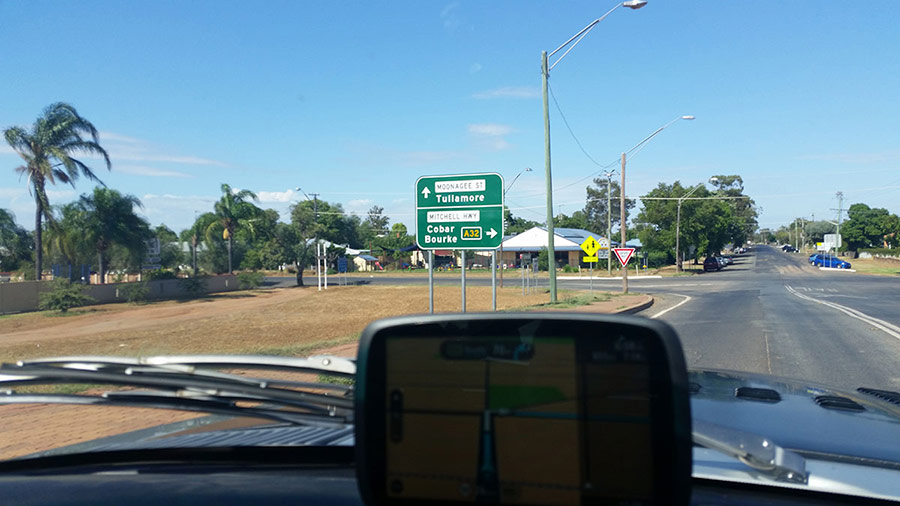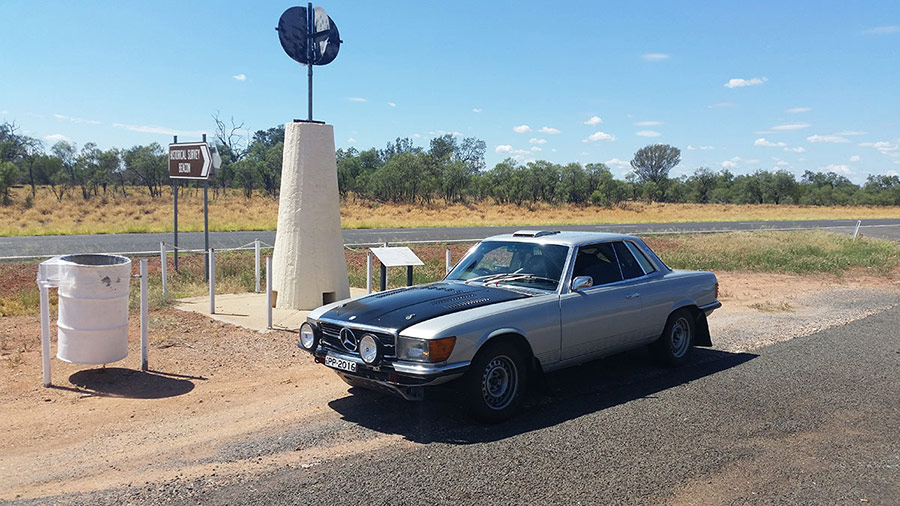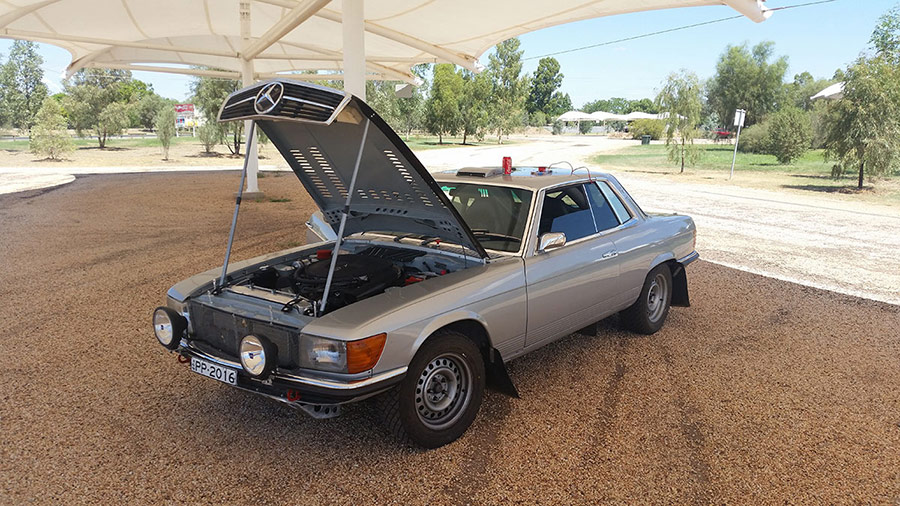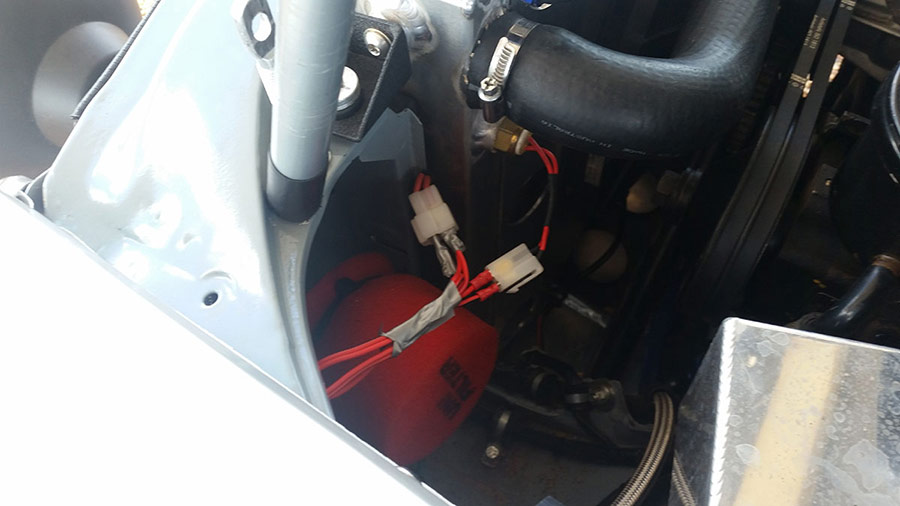 The thermo switch was playing up so a temporary override switch was dodgyed up and worked really well for the next 3,000km!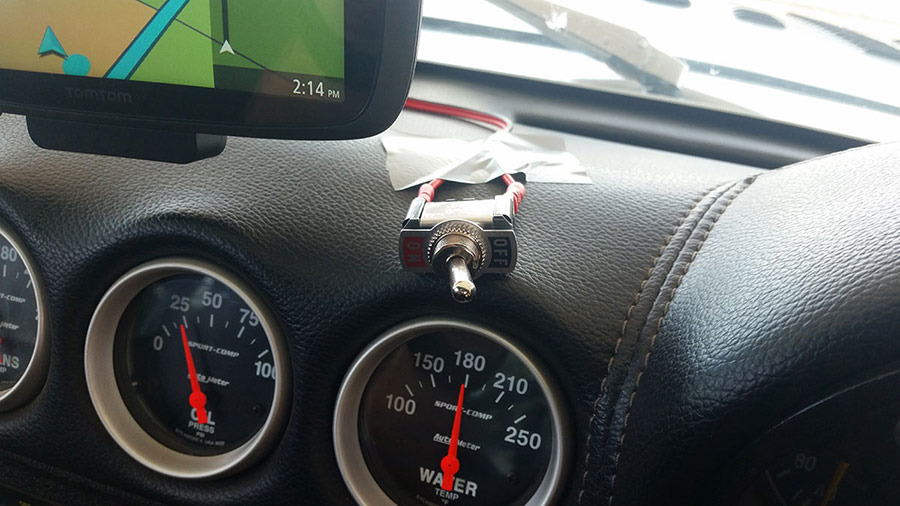 30+ degrees outside, full bash plates on and temp sitting right where it should.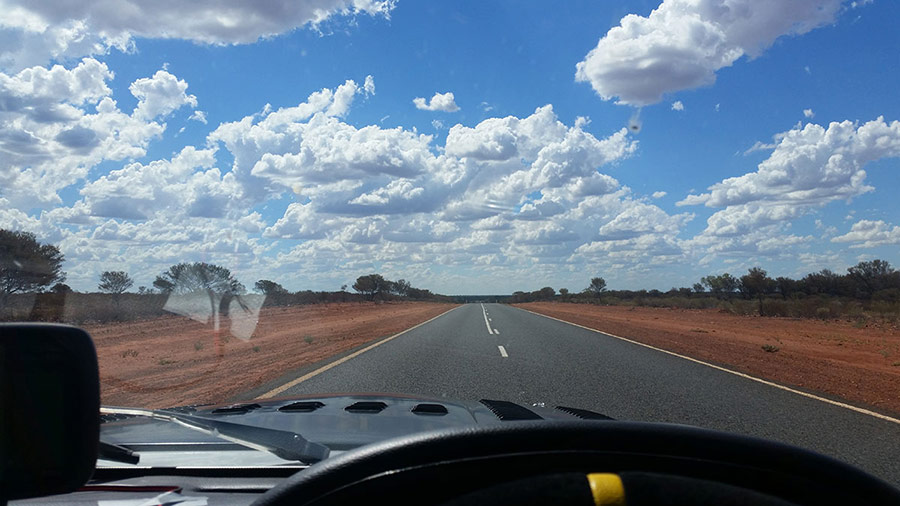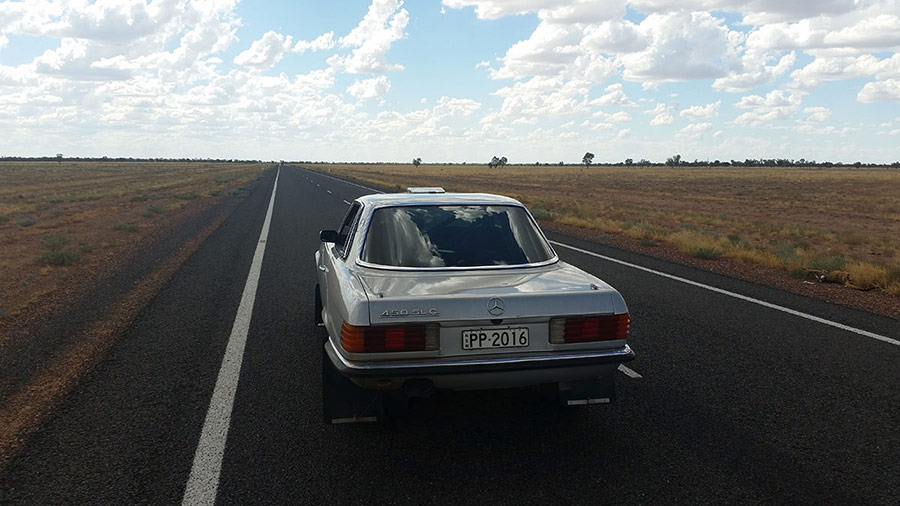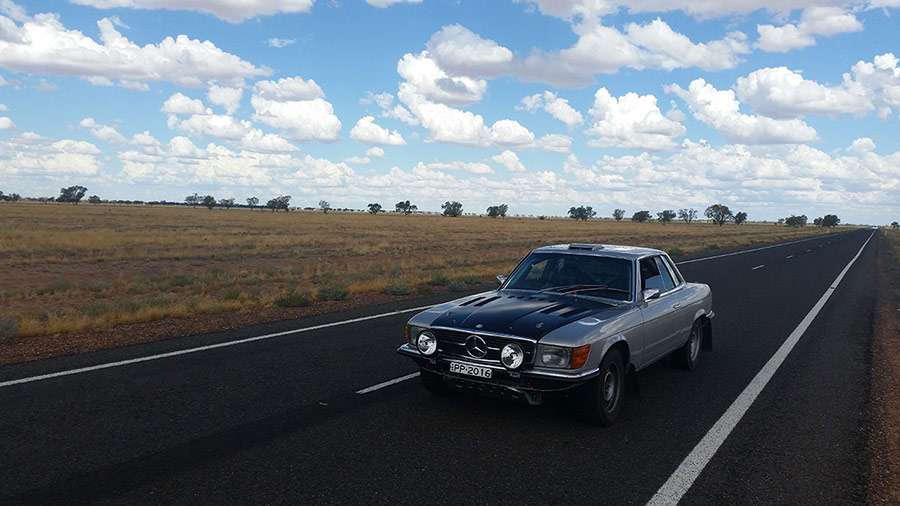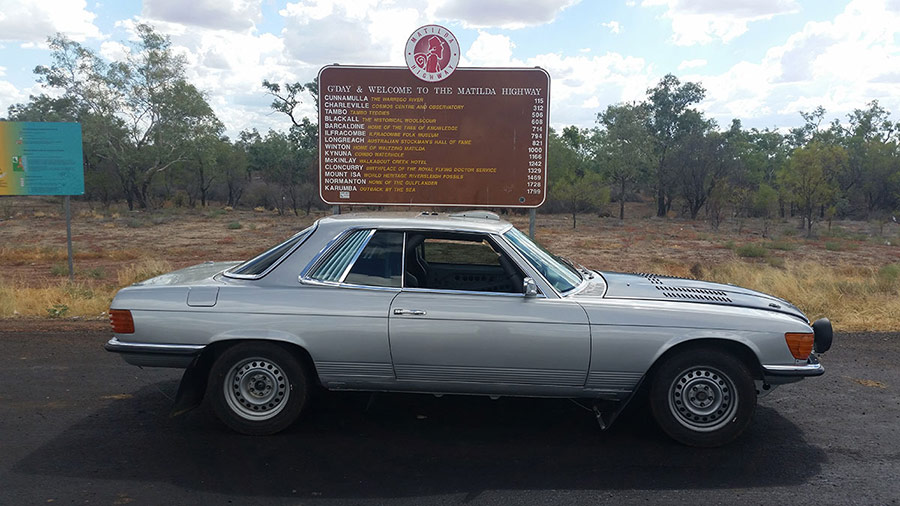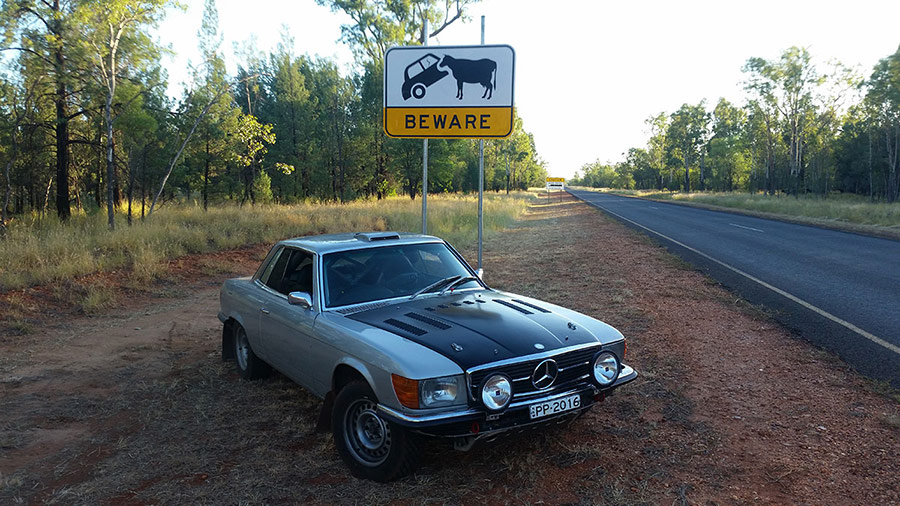 Luckily no cows or other wildlife came in contact with our 450SLC.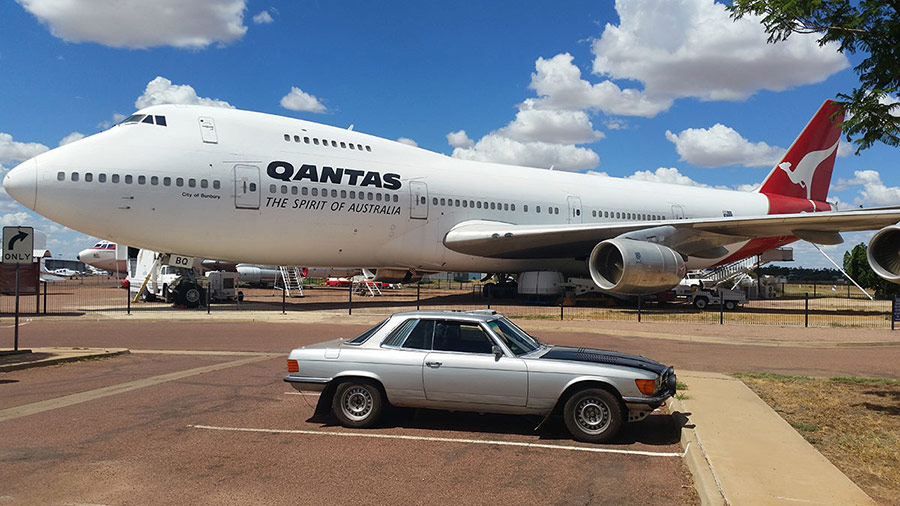 Arriving in Longreach.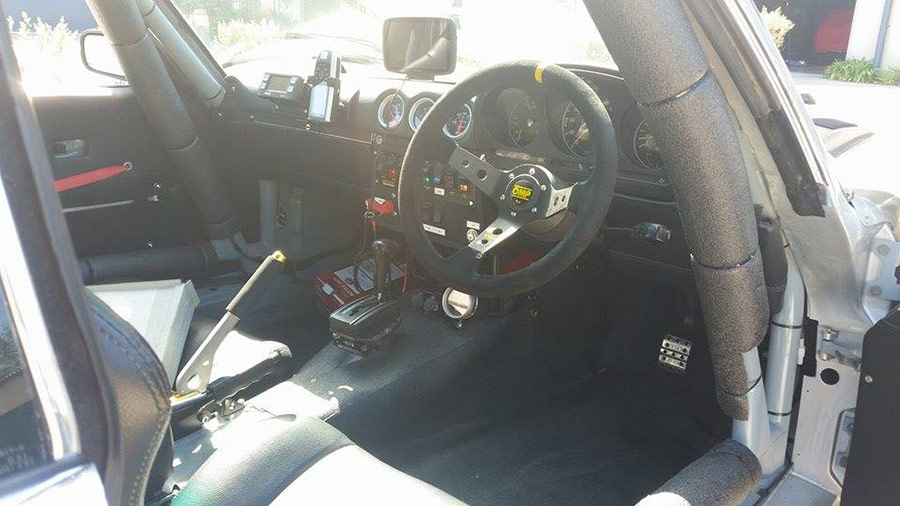 The cabin is surprisingly comfortable despite it being so sparse.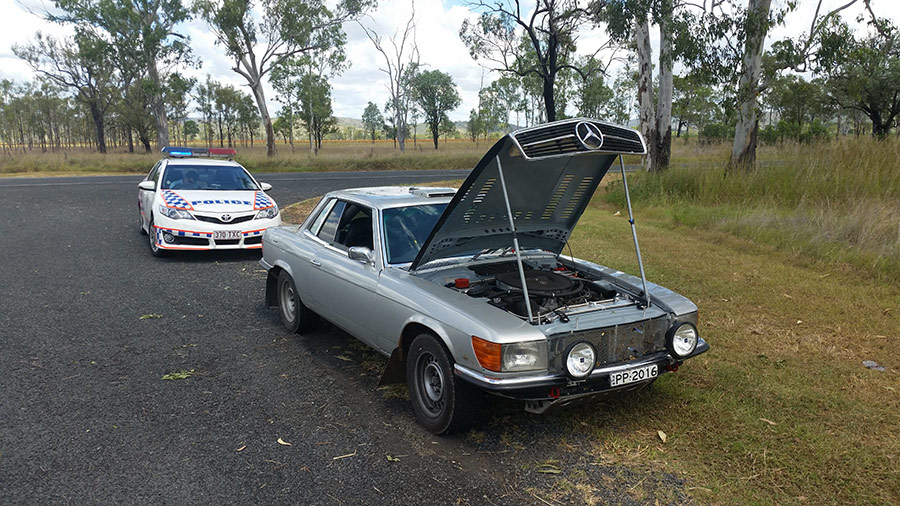 On the way back from Longreach, a QLD police officer was handing out prizes for the fastest cars he came across. Luckily enough ther 450SLC placed first!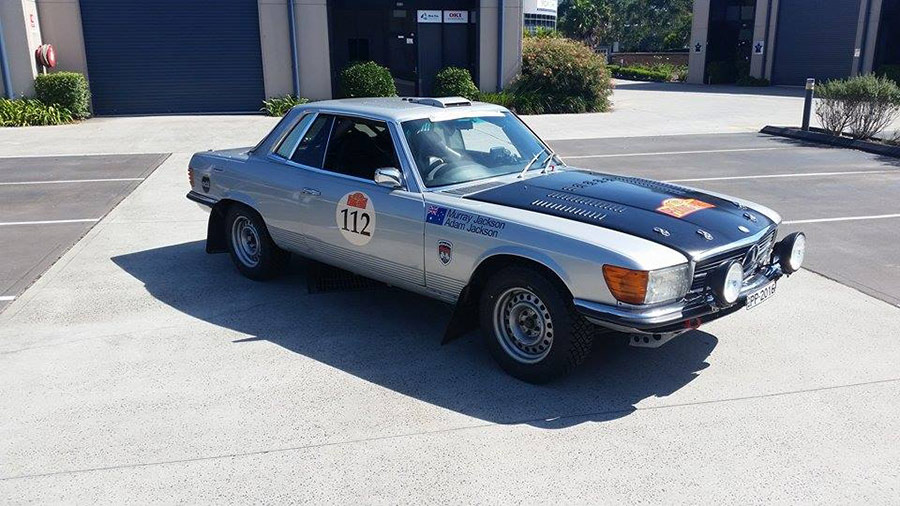 Stickers on and ready for transport.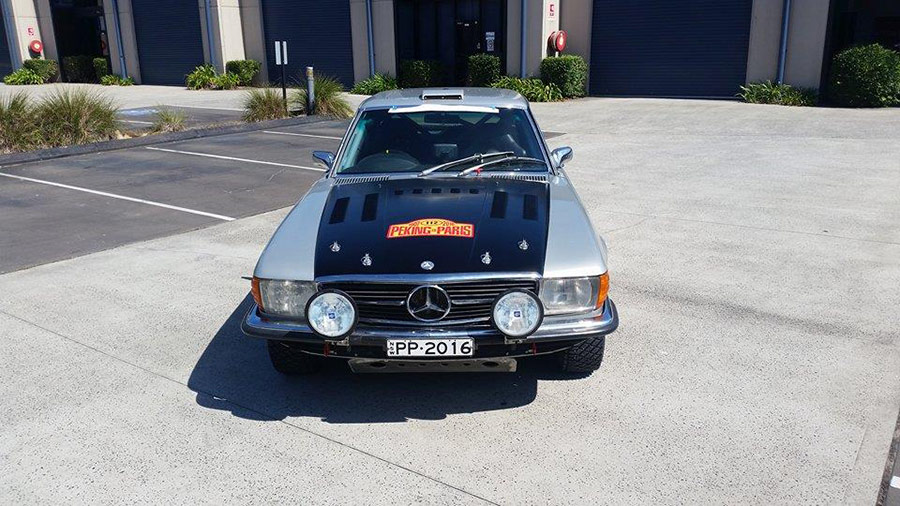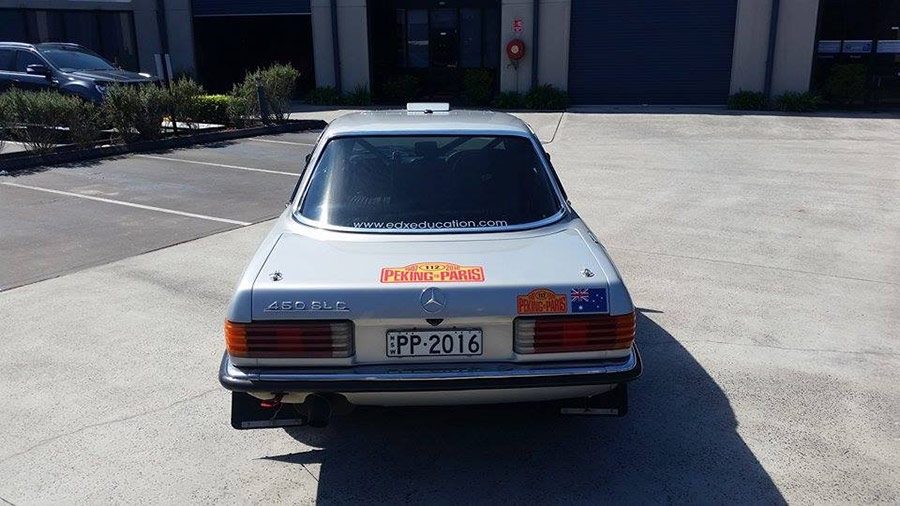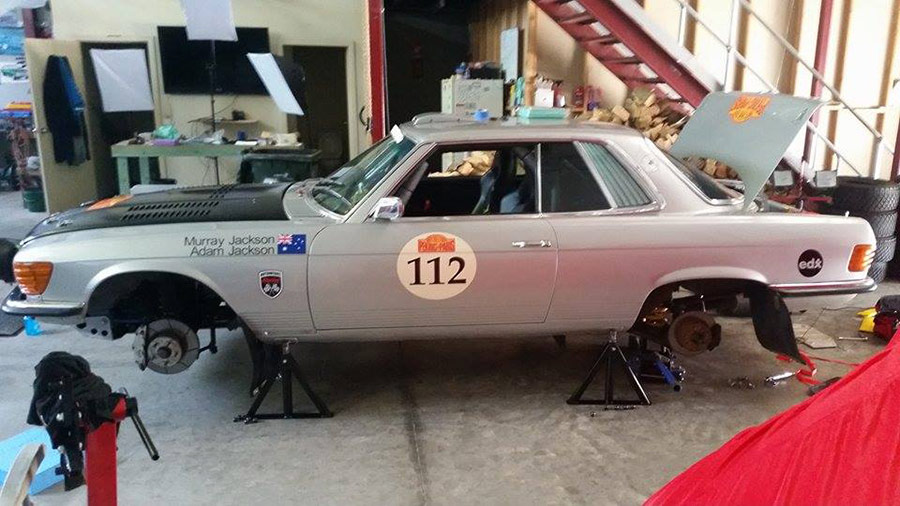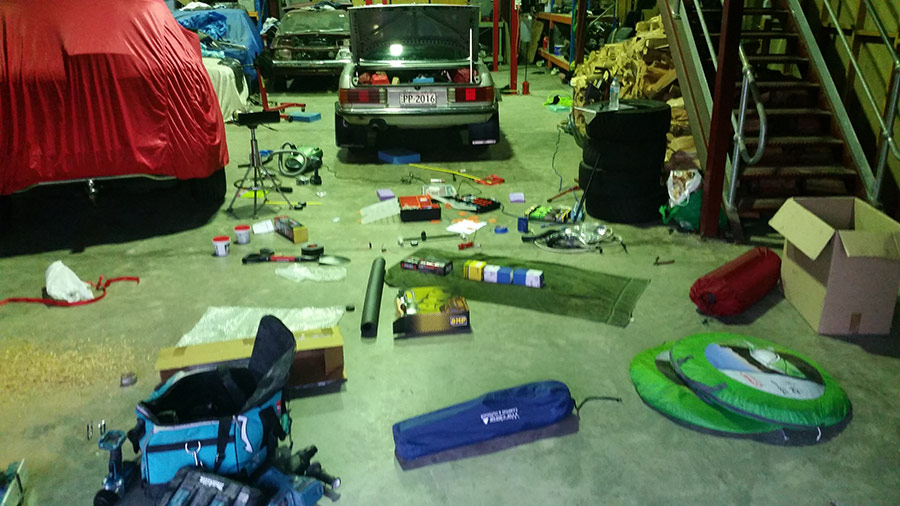 Figuring out what to take and where it is going to go, requires loads and loads of space as you can see!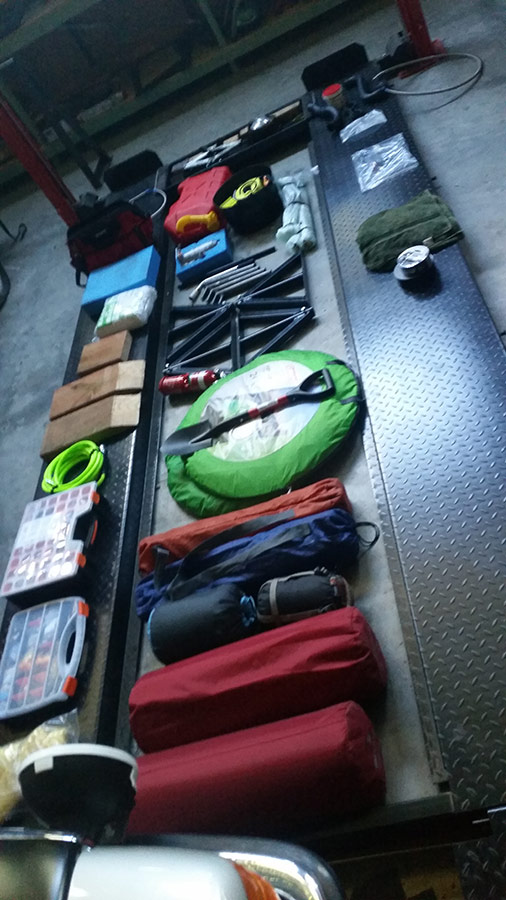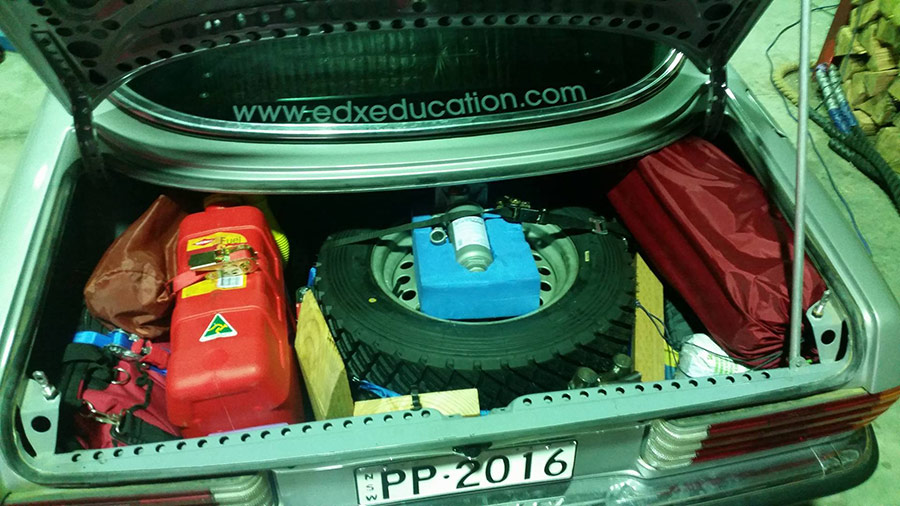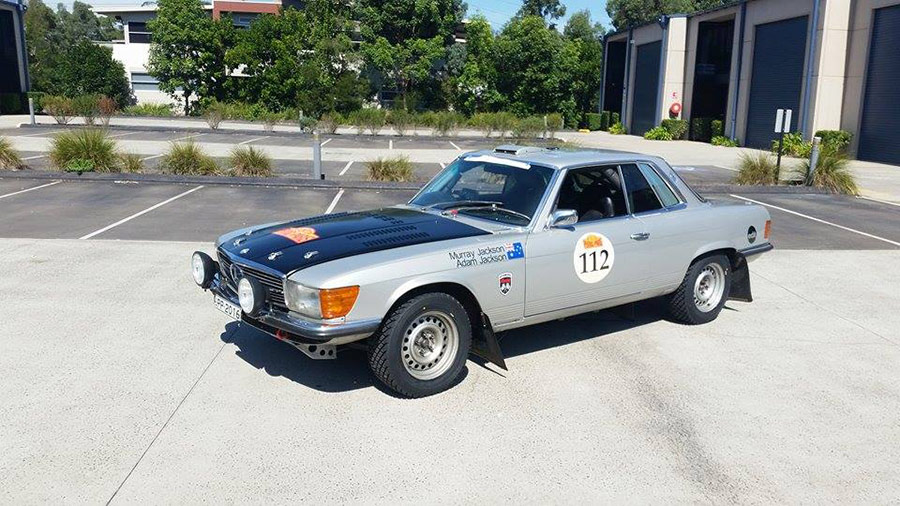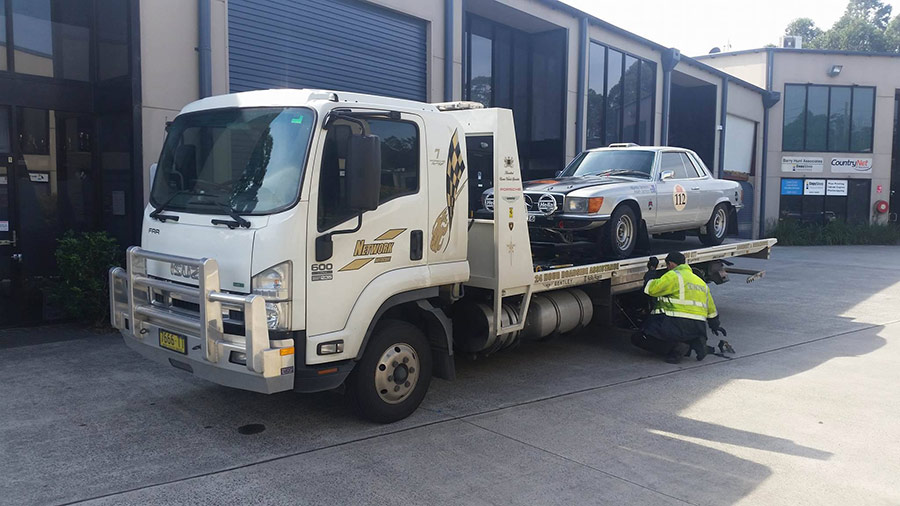 Cya in China!